This post contains affiliate advertising. This means I earn a small referral commission if you click through and make a purchase. This is at no cost to you.
Flying with an infant, whether that is a baby or a toddler, can be stressful. We have done quite a few short haul flights with our son now, so thought I'd share some of my top tips for travelling with a baby or a young toddler. These tips will keep you sane and less stressed, but please add any others in the comments if you have any others you can add.
Take a buggy
Airports are boring, big, and busy. it's useful to have a lightweight stroller with you so you can pop little one in when you're on a dash to the gate and you've somewhere they can nap.
Most airlines will allow you to take a buggy for free, although check their websites if you are unsure. Take it to the gate rather than check it in for all the reasons above. Make sure it's a lightweight one in case you need to navigate steps. If it's cheap and cheerful it won't matter as much if it gets the odd scratch once they put it in the hold. If you're on holiday or visiting family you're not likely to be doing major terrain anyway.
Get a gate check bag
A bag for your stroller will help keep it clean for when you're out the other end, but it will also act as extra storage. Pop the buggy in the bag, and you can pop any extra bits from the basket in the bag too. For example, a pack of nappies or extra wipes.
Consider baby wearing
If you are used to baby wearing, I'd recommend this, particularly for ease on the plane itself. You can still take a buggy and pop that in the hold at check in.  I know lots of parents that swear by this, particularly when travelling alone as they don't have to attempt to carry a buggy and a bag.
Check your baggage in
I know it can seem like an expense, but trust me you are not going to want to get a bag out of the overheard storage when you're carrying an infant. Many airlines charge for bags, but shop around and compare tickets.  We flew recently with an airline whose tickets cost more, but actually everything was included. It actually worked out cheaper than buying a cheaper ticket from another airline and paying for all the extras.
Order formula ahead
If you are flying with a formula fed baby, it's worth ringing the pharmacy at the airport (eg. Boots, Superdrug) and reserving a couple of bottles of premade formula and snacks. You just pay when you collect them. This may seem bizarre but trust me it's sensible, particularly if you are travelling at busy times and in regional airports. You don't want to have to swap baby to another formula that they're not used to and end up with an upset tummy during a flight.
Most airlines will allow you to take enough formula and food for the flight, so don't panic if not, but I always wonder what happens if the flight is delayed and you've already opened the bottle at security to taste it. Formula should be drunk when it's fresh and won't be useable after a couple of hours.
Take toys and snacks on the plane
Toddlers in particular are going to get bored, so make you pop their favourite toy and snacks on the plane with you. Make sure they are accessible in a bag you can stow under the seat in front. If you have a Kindle or tablet which you allow your children to use, load it up with a few of their favourite shows for offline viewing.  Grab children's headphones though, don't use your own. You want ones which have a noise limiter on them to protect little people's ears.
Pack a change of clothes
Anything can happen on a flight from accidents during toilet training to excited vomit, so take a change of clothing in your bag and something to soak up any major spillages. Having a disposable changing mat is handy as they absorb quite a lot and useful if you have to cover a seat for any reason.
Dress light and in layers
This goes for everyone. Flights can be stressful and temperatures on planes can vary. Personally, I always find planes either hot and stuffy or freezing and nothing in between. Wear light layers so you can adjust temperature. Nothing worse for a child than being hot and sticky (read irritable). You can always pack a small, light blanket with you to cover little one if they want to nap.
Sweets or feeds for take offs and landing
Older children might do well on a lollilop to help with ear pressure when taking off and landing, but that's tough with a baby. Feeds and distraction both help immensely with a young baby.
Don't worry too much about time of flights
On our first flight with baby, at around five months, we decided to fly at night thinking he would sleep. He didn't. He was so excited, he stayed up and became irritable in the end.  We've also flown early morning, and that hasn't worked either around meals. Basically I wouldn't worry too much as your child will throw a spanner in the works anyway. Go with what you think feels sensible and you won't go far wrong. We will pay a little bit more to travel mid morning or mid afternoon now. It's worth every penny if we're not all hungry and tired, that works or us.
This week, I'm supporting the #TriumphantTales linky : a way of connecting similar blog content.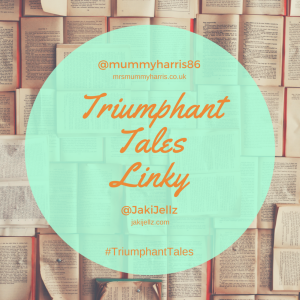 This post contains affiliate advertising. This means I earn a small referral commission if you click through and make a purchase. This is at no cost to you.