These labels were sent free of charge for review purposes. The opinions expressed are honest and my own.
I hate labelling our son's clothes with nametags for nursery. I've tried loads of different types in the past, from iron on to sew on and I've hated all of them. It's mostly because I'm lazy when it comes to things like that, or perhaps more accurately I've got better things to do with my time than label every individual article of clothing.
I've resorted to writing his name on the inside of hat and coats with a laundry marker before now. Of course, that makes it tricky when you want to hand them on to another child, donate them to charity or even sell them. I've used iron on ones that haven't lasted five minutes. I don't have time to sew them on either.
We are potty training however, and given the amount of changes of clothing we are going through, I need to ensure that we come home with the right clothes everyday. I wanted to label everything, including pants! Our nursery is fantastic at washing clothes if a mess happens, but let's be honest, I don't want to have to buy fifty pairs of boys pants to allow for them not coming home, wonderful as their washing may be.
When My Nametags offered to send me some for review I admit I was skeptical, but I kept an open mind. They kindly allowed me to choose whichever ones I wanted and I selected a range : some iron on labels and also stick on ones, some in colour and some in black and white.
The design service on their website is very easy to navigate, and there's a handy "information" tool on each type of design to help you decide if it's the right type of product for you. There's lots of different designs, including Mr Men and Hello Kitty themes, and Battersea Dogs and Cats Home ones too.  You can tailor everything from colour to font to graphics, so you have something that doesn't look out of place on a water bottle, kids clothing, your own uniform or stationery.  They honestly do have thousands of uses.
The labels arrived quickly and I was instantly impressed by the quality. They are much thicker than the ones I've bought previously online from Ebay and Amazon marketplace. There is also a lot of adhesive so when I stuck it on a bag it was firmly on there.  The writing on every label was clear and legible. They were a good size too.
I began with testing the iron on labels. You simply place them on the fabric, cover with a protective sheet (supplied) and lay a hot iron over them for around 15 seconds. They were firmly in place, even on the gathered waistbands.  I've washed these and they've stayed on well and haven't peeled off.
The stick on ones, which don't require ironing, also stayed on well but I'm not sure how many washes they'll survive. They have done very well on water bottles, hats, coats and bags though. They work well in the inside of shoes and so far they haven't peeled off.  I'm keeping some back for wellies in the winter! It's so easy to get those mixed up in nursery as there's not a great variation in design. One wellington boot looks much like another!
So overall these labels from MyNametag get a big thumbs up from me. They're definitely worth looking into ahead of September, as from reception to primary school, and for gym kits for older kids, I'm sure we will all be looking at labelling! They can be used for lots of other things though, and the range of themes and preset designs for those who just want to click and buy is really good.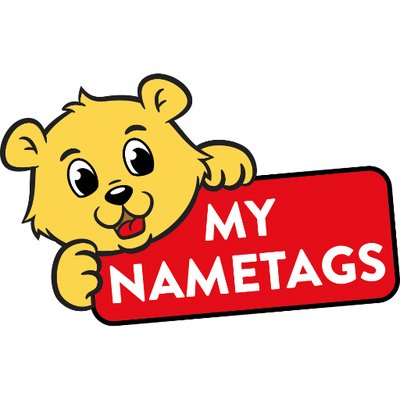 These labels were sent free of charge for review purposes. The opinions expressed are honest and my own.